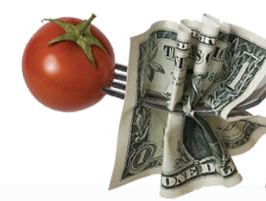 For inspiration, a call to arms and gatherings of well-mannered rabblerousers, look no further than the Princeton Environmental Film Festival, which begins January 26 and runs for three consecutive four-day weekends.
Hosted by the Princeton Public Library and now in its sixth year, the event is coordinated by librarian Susan Conlon and other community volunteers.
There's a meal — Sustainable Princeton's Great Ideas Breakfast, Friday, Feb. 10, 8:30 a.m. — and there are several films that are of interest to the good food crowd. If you're unable to attend a screening, no worries, says Ms. Conlon – most of these DVDs are available at the library.
"Shellshocked: Saying Oysters to Save Ourselves," Saturday, Jan. 28, 12:30 p.m. Follows efforts to prevent extinction of wild oyster reefs, which have been declared 'the most severely impacted marine habitat on Earth' and no longer play a role in ocean ecosystems.
"Rescuing the Raritan," Saturday, Jan. 28, 2 p.m. Tells the story of the Raritan River, a source of water for more than a million people in New Jersey, its contamination and how government agencies, corporations, environmentalists, developers, scientists and lawyers have clashed over cleanup. Followed by a Q&A with filmmaker Eric Schultz.
"Food Stamped," Sunday, Jan. 29, 1 p.m. Follows a couple as they attempt to eat a healthy, well-balanced diet on a food stamp budget. Along the way, they consult with members of Congress, food justice organizations, nutrition experts and people living on food stamps for a deep look at America's food system. Panel discussion follows, featuring Julia Hicks de Peyster, who attempted to feed her family of five on the allotted food stamp budget for forty days; Crisis Ministry of Princeton and Trenton's Hunger Prevention Director Mark Smith; and moderator Liz Cohen of Yes We CAN! Food Drives, which supports the Crisis Ministry.
"Sola, Louisiana Water Stories," Thursday, Feb. 2, 7 p.m. Water stories from Southern Louisiana (SoLa) which supports the biggest economies in Louisiana – a $63 billion-a-year oil and gas industry and a $200 million-a-year fishing business, in addition to tourism and recreational sports — and is home to some insidious polluters along "Cancer Alley," a 100-mile-long stretch of the Mississippi known as "Cancer Alley," the world's largest Dead Zone and erosion that is costing the coastline 25 square miles of wetlands a year. Q&A with director Jon Bowmaster will follow.
"Call of Life," Friday, Feb. 3, 4 p.m. Investigates growing threat posed by rapid and massive loss of biodiversity on the planet. Caused by human activity, this contemporary mass extinction, is disrupting and destroying the complex, interconnected biological systems that support life on earth. Its primary drivers are habitat destruction, global warming, pollution, and invasive species, all compounded by the expanding human population and our consumption patterns. Q&A with executive producer David Ulansey to follow.
"The Clean Bin Project," Saturday, Feb. 4, 4 p.m. Jen and Grant compete to see who can produce the least landfill garbage in an year. Their light-hearted contest is set against a darker examination of waste in the U.S. and the large-scale environmental impacts of a throw-away society.
"Mother: Caring for 7 Billion," Sunday, Feb. 5, 4 p.m. Examines population growth, which fuels our most pressing environmental, humanitarian and social crises. Grounded in theories of social scientist Riane Eisler, the film strives to highlight a different path for humanity – one of nurturing rather than conquering, or domination.
"Urban Roots," Friday, Feb. 10, 10:30 a.m. Explores the urban farming phenomenon in Detroit, addressing the epidemic of collapsed industrial towns and the need to forge a sustainable and prosperous future.
"Truck Farm," Saturday, Feb. 11, 4 p.m. Using green-roof technology and heirloom seeds, Ian Cheney plants a vegetable garden on the only land he has: his Granddad's old pick-up truck. Once the mobile garden begins to sprout, viewers are trucked across New York to see the city's funkiest urban farms, and to find out if America's largest city can learn to feed itself. Q&A with director Ian Cheney follows.
Short Films and Talk on Ocean Habitat Conservation, Sunday, Feb. 12, 3 p.m. Stan Waterman, a legendary underwater photographer, filmmaker and diver, and Carrie Manfrino, director of research and conservation for the Central Caribbean Marine Institute, return to the Princeton Environmental Film Festival to discuss their work and share some of their films and stories.