Community Park Elementary School garden
The Community Park Garden encompasses an Edible Garden, a Colonial Herb garden, an ABC garden (perennials arranged by their first letter, in order of the alphabet), a Rainbow garden, a Prairie Habitat garden and various entrance gardens.
In the gardens, students have hands-on lessons in many subjects throughout the year. Science lab teacher John Emmons uses the gardens extensively and has been a driving force in the creation of these vital and vibrant outdoor classrooms.
Garden educator Priscilla Hayes works with John and the rest of the Community Park faculty to expand the use of the gardens for lessons in multiple curricular areas. Taste and local foods expert Fran McManus teams up with School Nurse Vera Maynard to provide garden-linked nutrition and palate development workshops to third- and fourth-graders.
In conjunction with Food Day, October 24, Community Park's PTO hosts an annual Farmer's Market to sell some of the garden produce to families at the school. In addition, two Family Garden Days, one in the fall and one in the spring, bring the community together to help the garden grow.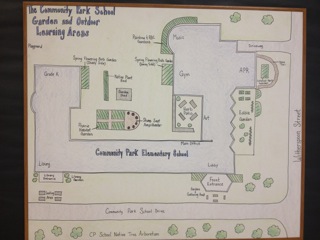 To see what's growing in the Community Park Elementary Schools, click this link.
Last month, in recognition of Farm-to-School month, the Community Park PTO held its first-ever "Help Our Garden Grow" Day. It was an overwhelming success, as more than 20 families around the community showed up to volunteer. As they soaked in the sunshine, these parents and students installed two new gorgeous raised beds, cleaned and mulched existing beds, expanded two gardens in the back of the school, painted rain barrels, decorated and hung new signs in each garden, planted several new shrubs and trees, and repaired garden furniture. Mr. Emmons, the school's science teacher, was delighted with the improvements. As a result of these accomplishments and the CP community's hard work, he was able to jump into winter garden preparation with his students in late October.
We look forward to seeing winter crops harvested as well as attending a 2nd "Help Our Garden Grow" Day in the spring (date TBD).
The outdoor classroom – and edible gardens – at Community Park took a giant leap forward in June with the expansion of the fenced area, courtesy of Judy Wilson, Princeton Regional Schools superintendent.
Now, the picnic tables are beneath the shade of a tree and there is grassy area for doing cartwheels or stretching a beach towel out for looking up at the sky. And the gardens can expand as desired.
John Emmons, science teacher who also once worked in a greenhouse, is taking the lead in both the edible and ornamental garden beds. Edible: two varieties of Swiss chard, sugar snap peas, English peas, lettuces, broccoli raab, red cabbage and kohlrabi. "Whatever cool-weather crops I could find, I got." said Mr. Emmons. Ornamental: sweet peas and California poppies.
Janet Thomas is working with Mr. Emmons to create a Japanese-inspired shade garden in a Zen style. As part of this work, the two will re-locate the spring bulbs. Ms.Thomas will also use the Zen garden to further her students' understanding of Chiura Obata, the Japanese-American artists who painted Yosemite Valley.
Curricular links
If edible gardens can continue to expand, Mr. Emmons hopes to plant representative Japanese, Asian, Hispanic, Mediterranean, Native American and Italian gardens, among others. This expands on the existing work of Adam Blejwas, who has grown tomatillos and other ingredients for his classroom salsa-making lesson that he has taught the 4th graders. Ms. Thomas will use the new Zen garden to tie in with her classroom study of feature maps. Japanese gardens re-create geographical features, she said, using mosses and ferns – with gravel as the sea, and rocks as mountains.
Obstacles to participation
"We're at the beginning," said Mr. Emmons of the outdoor classrooms. "First, you build it and they will come." His goal, he said, is to help teachers and administrators see that it's a wonderful space, and that the students will enjoy outdoor classes even more than sitting inside. "I want to encourage teachers to develop their own uses for the gardens, and encourage them to get out there more. I want them to say, "Wow, this is nice!"