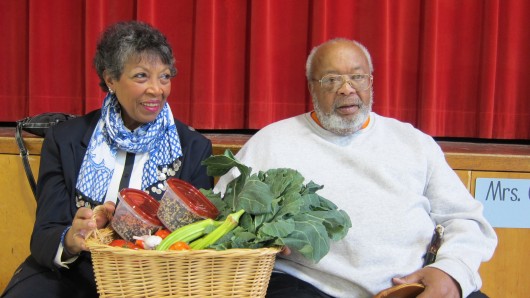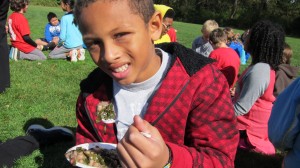 By Assenka Oksiloff
Princeton Public Schools
As part of Food Day celebrations this week, students at Littlebrook Elementary reaped the bounty of their harvest and also got a lesson from guest speakers Shirley Satterfield and Henry Pannell about the origins of soul food. Satterfield and Pannell, long-time educators and members of the Princeton community, talked about the recipes and taste of soul food – and its history and cultural context.
With the help of Garden Educator Priscilla Hayes, this year's Littlebrook fifth graders are growing a Freedom Garden, which consists of crops that once were grown by slaves from Africa. The plants harvested this year include okra, cowpeas, collard greens and fish peppers.
Satterfield, a former board member and currently an advisor of the Historical Society of Princeton, knows a lot about the connection between food, culture and social struggles: She has lived it.As a child growing up in Princeton, she was among the first pupils from the Witherspoon School for the Colored, which closed in 1948, to integrate with Nassau School under the Princeton Plan. While attending college in North Carolina, she joined the Greensboro Four at the Woolworth's lunch counter to protest segregation.
It was in the South that Satterfield grew to love soul food. Pannell, whose family hails from Virginia, grew up with collard greens and kale in the garden, still two of his favorite foods, which he continues to grow in his own garden. Satterfield gets her kale from her share in a local organic farm, and she told the children that she now eats the leafy green in a salad as often as she eats it in soul food dishes.
As part of the lesson for Food Day, Satterfield and Pannell took the children's Freedom Garden produce to local chefs William Fowler and Edward Rice to prepare traditional African-American dishes for the students to sample. All of this was arranged with the help of Peter Young, Jr., a local entrepreneur, whose projects include a catering business with an emphasis on soul food. For the kids, it was a way of getting a deeper understanding of why food matters.
"When people ask us why we have a garden program, the quickest answer is always that it helps kids learn where food comes from," said Amy Mayer, a member of the Princeton School Gardens Cooperative and sponsor of food- and garden-related events in the schools and the community. "That means, of course, understanding how plants turn sunlight and soil into fuel for our bodies. But that isn't all. The foods we eat also, in a sense, come from our friends and families, our communities, our cultures, and our history."