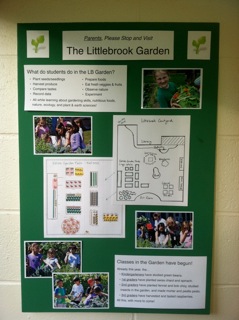 Littlebrook's garden program hit the ground running in September.  The first week of school, first and second graders were out planting seedlings and kindergarteners had their introduction to graphing using the number of beans in a pod.  This year, again, each grade has a year-long garden project, and we have also introduced one or two focus plant families for each grade.
The school welcomed Priscilla Hayes, who was in the first class of Mercer County Master Gardeners, as our new garden manager.  Priscilla has taken over planning and management of the garden, assists Martha Friend, our science lab teacher, with curriculum development, and provides expert support.  Priscilla demonstrated gardening techniques to our homeroom teachers for several projects, such as planting garlic bulbs, transplanting strawberry runners (thank you Far Hills Country Day School!), and taking down and composting materials from the three sisters bed.  The planting sessions proved to be a good time to introduce basic garden etiquette (wash your hands before and after entering the garden) and some of the niceties of worm anatomy (most of the children wanted to pet the worm).
Our garden program continues to find new ways to connect garden to table and community.  For the fall picnic, Ms. Saltiel's class used real mortars and pestles to make pesto from garden basil in the traditional way.  Chef Jen Carson and Farmer Chris Turse from Double Brook farm made a joint appearance to harvest carrots and herbs and create a green goddess dip with the second grade.  PSGC's Fran McManus brought a variety of apples from Terhunes Orchard to the third grade for an in depth tasting and exploration of apple varieties – and for comparison with the first crop of our own Littlebrook apples!
Putting an exclamation point on this year's garden season, Mrs. Friend and our health teacher Holly Javick organized a school-wide harvest tasting to celebrate Food Day, October 24, with the assistance of the parent Garden Committee.   At 1:15 on the dot, the students streamed out of the school into the sunshine, and each grade was treated to a dish or two prepared from crops those students had participated in growing in the garden.  Some dishes were prepared by the students themselves (e.g., kindergarten pickles, fourth grade squash and bean stew) and others were prepared for them by parents, teachers, and even chefs from Princeton University and Tiger Noodles.  Yum!